BEA China Becomes First Foreign Bank to Open 5G Intelligent Bank Branch on the Chinese Mainland, Heralding Intelligent Retail Bank Era
Issue Date:[2019-12-31]
On December 11st, 2019, the Bank of East Asia (China) Limited ("BEA China") opened its Xintiandi "G-speed creates future" intelligent branch, heralding the arrival of a new intelligent retail bank era. As the first 5G intelligent branch to be opened by a foreign bank on the Chinese mainland, Xintiandi branch will endeavor to build a closer relationship with its customers by providing more convenient, efficient and safer services. Mr. Brian David Li Man-bun, Co-Chief Executive of BEA, Dr. Eric Yip Chee-hang, General Manager & Head of China Division of BEA, Mr. Cartier Lam Chi-man, Executive Director & Chief Executive of BEA China and other members from BEA China and the senior management of Shanghai Branch attended the opening ceremony.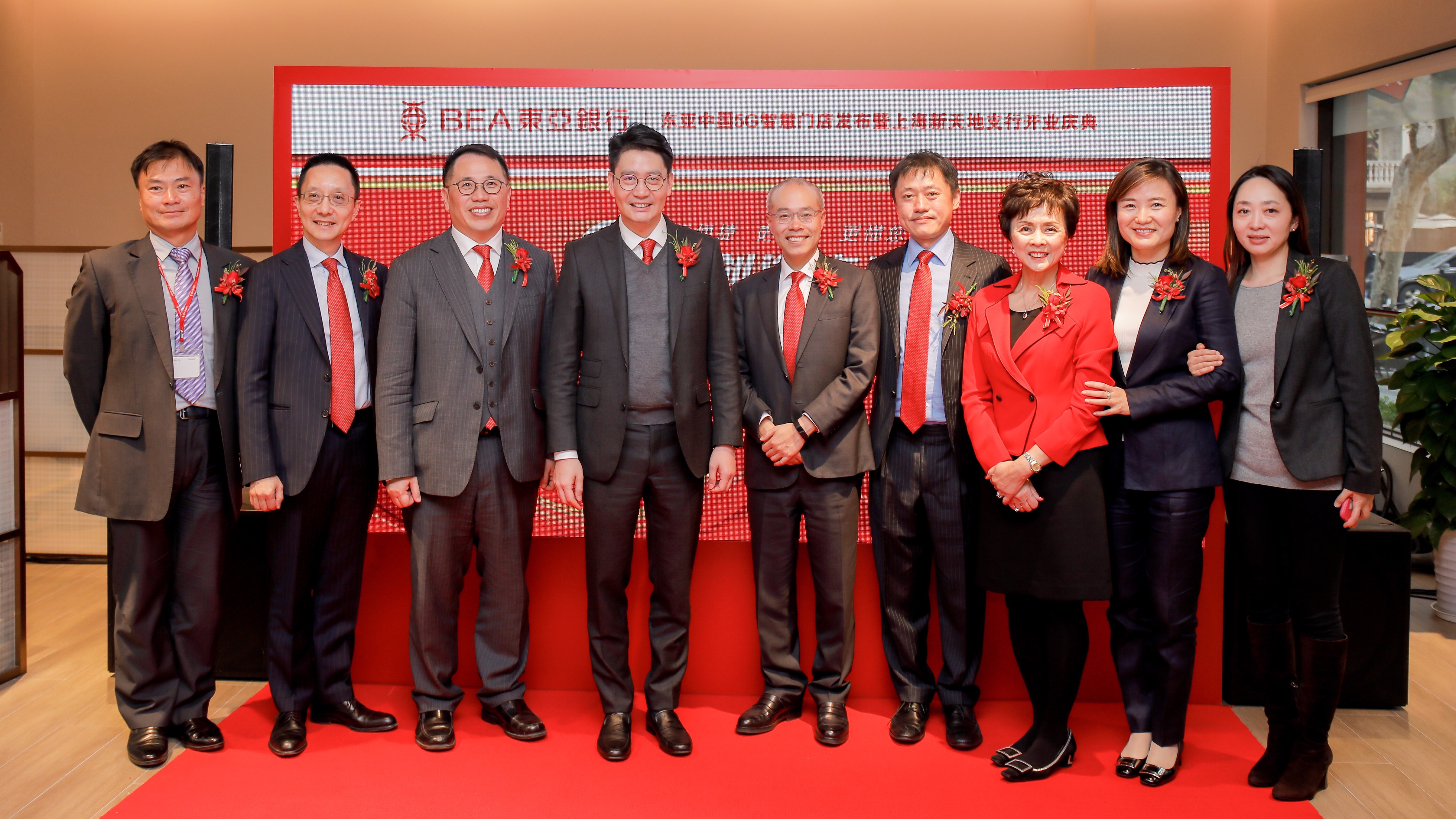 "Financial technologies have brought profound changes to modern life. As a bank committed to innovation, BEA China hopes it can improve its customer experience through the application of new science and technologies," said Mr. Brian David Li Man-bun.
Xintiandi Branch will be one of the first intelligent retail branches of BEA China. It uses 5G, biometrics, big data and other advanced technologies to break through traditional boundaries of time and space. These technologies will bring greater efficiency, convenience and security, enhancing the customer experience. For example, by making appointments and filling in forms on a mobile phone or pad, customers can arrive at the branch for their appointment without needing to wait. Face recognition technology greatly shortens business processing times and improves security. Smart technologies and professional asset allocation models help provide different financial solutions and recommendations to customers by analysing factors including spending habits, asset status and risk appetite. All the above will build a closer relationship between the branch and its customers.
Furthermore, unlike traditional bank branches, Xintiandi Branch is fully equipped with 5G, enhancing efficiency and security. The branch's VIP services provide high-level customers with a special room, allowing them to conduct their business in greater security and privacy.
The Bank of East Asia has been developing on the Chinese mainland for nearly one hundred years. Since BEA China, the wholly-owned subsidiary of BEA, launched its retail banking transformation in 2018, the new mobile banking, e-commerce platform, online loan transaction platform, new website, big data market and other platforms have been successfully launched. Now, the opening of the 5G intelligent branch marks the deepening and upgrading of the new intelligent retail transformation at BEA China. In the future, BEA China will establish a PAT retail bank service system by fully rolling out its intelligent transformation, so as to be the most convenient and efficient intelligent retail bank focused on the needs of customers on the Chinese mainland.